WIN THIS 🔥NINJA BUNDLE!🔥
 ENTRIES ONLY £0.99
MAX ENTRIES ONLY 2373
MAX 200 PER PERSON
UK & NI ONLY
---
Ninja Foodi Dual Zone Air Fryer (AF300UK)
---
The air fryer that cooks 2 foods, 2 ways, and finishes at the same time.
More than an air fryer. 6 ways to cook – Max Crisp, Roast, Bake, Reheat, Dehydrate and Air Fry.
2 Independent Cooking Zones
When it comes to cooking, timing is everything. The Ninja Foodi Dual Zone 7.6L Air Fryer does the thinking and timing for you. Cook 2 different foods with different temperatures, times and settings in 2 separate cooking drawers – and have both ready to serve at exactly the same time using the SYNC feature! More people to feed? MATCH settings across both zones to make double the amount of food in the same amount of time!
SYNC
Want to cook two different foods using different times, temperatures and programs? Use different settings in each drawer with the Sync feature – both are ready to serve at the same time!
Want to Roast in one drawer and Air Fry in the other? No problem! Different cooking times for fish fingers and fries? Both finish cooking at the same time, so you can enjoy freshly-cooked mains and sides together – no need to use different appliances or let your side go cold while your main finishes cooking!
Whether it's chicken breasts and fluffy roast potatoes, baked salmon and Mediterranean vegetables or juicy beef burgers and golden chips, your perfect pairing is just moments away.
Cooking for two different dietary requirements? Cater for everyone by cooking vegetarian food in one drawer and meat in the other.
MATCH
Cooking for extra guests or feeding the whole family? Use the Match feature to double your serving size, with the same cooking program and time in both drawers.
Cook the same food in both zones to make twice the amount of food in the same amount of time! Or easily cook two different foods with the same cooking instructions.
Just cooking for yourself? No problem – you can cook in a single drawer. Each non-stick, dishwasher-safe 3.8L drawer fits up to 1kg of fries.
More Than an Air Fryer
Up to 75% faster than fan ovens*, quickly and easily create a delicious variety of meals that the whole family will love.
Air Fry – Up 75% less fat than traditional frying methods**. Enjoy guilt-free fried favourites using little to no oil. From delicious chicken wings, fishcakes, burgers and sausages to chunky chips. Air frying evenly circulates super-hot air around food to remove excess moisture and give it a delicious golden finish.
Max Crisp – Cook from frozen to crispy in minutes. Temperatures of 240°C evenly cook and crisp your favourite frozen foods. From breaded scampi and chicken nuggets to golden French fries, onion rings and more. Perfect for quick, delicious dinners.
Roast – Not just for Sundays, enjoy your favourite roast meat, fish and vegetables any day of the week. From salmon fillets, golden chicken breasts and roast pork chops with crispy crackling to fluffy roast potatoes, balsamic-roasted tomatoes and sweet potato hash.
Bake – Easily cook pasta bakes, fish pies and flaky fish with crispy toppings, or enjoy freshly-baked bread and homemade sweet treats, from muffins and brownies to cakes and cookies.
Dehydrate – Create delicious dried fruit snacks, from apple to mango, banana to pineapple. Enjoy homemade vegetable crisps, beef jerky, and even make your own dried herbs.
Reheat – Restore leftovers to that delicious fresh-out-of-the-oven finish, perfect for reviving leftover pizza, quiche, spring rolls and more.
The easy-to-use digital control panel with a countdown timer makes it easy to see how much cooking time is left.
Variable temperature controls let you make every snack and meal just how you like it. The innovative Auto-Adjust Fan automatically changes speeds based on the cooking function selected.
Washing up is easy thanks to non-stick, dishwasher-safe parts.
---
Ninja Blender with Auto-iQ
(BN500UK)
---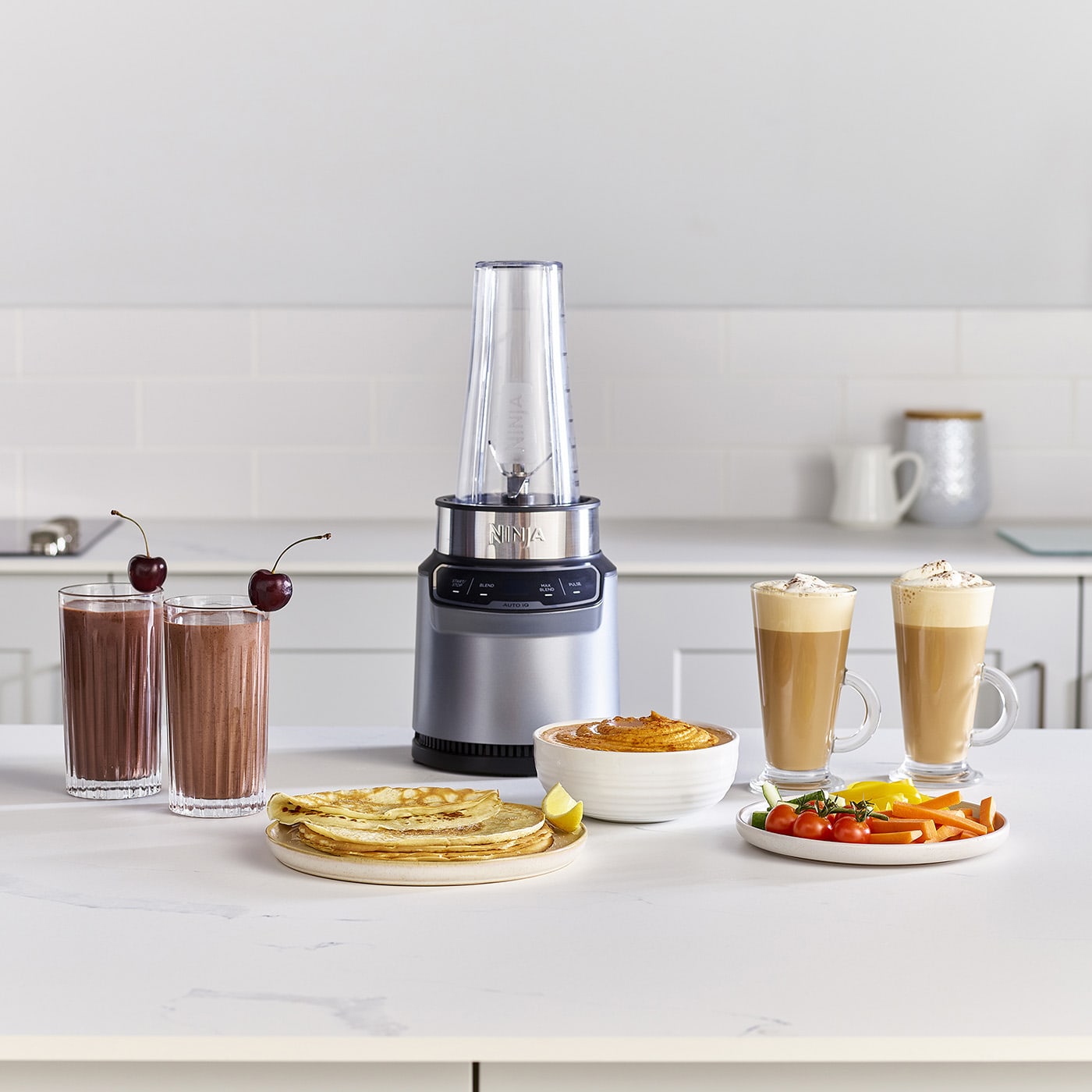 Featuring a sleek silhouette with a stylish silver-grey finish and stainless steel accents, this elegant Ninja blender looks great on any kitchen worktop.
Easily create delicious smoothies and ice-cool drinks using all your favourite fresh and frozen ingredients – from healthy fruit smoothies to zingy breakfast blends, luxurious milkshakes to frozen treats, and even dips and dressings.
Blend in the cup, enjoy on-the-go
Simply stack your ingredients in the 700ml cup, made from tough, BPA-free Tritan, then add the patented Pro Extractor Blades and blend at the touch of a button. Add a no-spill lid and enjoy your creation straight away or take your drink on-the-go.
Easy to Use
Simple one-touch controls make it easy to either select automatic programs or manual settings – all designed to deliver the perfect result, exactly as you like it.
No more guesswork with Auto-iQ Technology. Exclusive to Ninja, these intelligent blending programs are tailored to deliver the results you want at the touch of a button. 2 unique pulse, pause and blend patterns do all the hard work for you. You can also take control with manual settings.
Ninja Blade Technology
Ninja's precision-engineered blades are built to last, made from durable, high-quality stainless steel and put to the test with 1000 ice-crushing cycles.
Driven by a powerful 1000W motor, the unique Pro Extractor Blade design easily creates super-smooth results, blending even the toughest ingredients including fibrous fruit and vegetables, nuts, seeds and even ice.
---
Ninja Black Perfect Temperature Kettle, Rapid Boil (KT200UK)
---
Introducing the Ninja Perfect Temperature Kettle where tradition meets innovation.
With its sleek matte black design, this variable temperature kettle gives you complete control over your hot drinks, combining contemporary style with impressive performance.
Did you know that temperature can directly impact the taste of your favourite drink? This temperature control kettle offers 6 pre-set temperatures ranging from 60°C to 100°C, to make the most of your favourite drink – and meaning no more burnt tea or coffee. Whether you prefer green tea, oolong, herbal tea or freshly ground coffee, this kettle helps you brew the perfect cup every time.
Why use Temperature Control?
Every type of tea and coffee has an optimal brewing temperature that brings out the most flavour. Our pre-set temperatures help you enjoy the most flavourful cup, every time.
Select from 6 pre-set temperatures at the touch of a button.
60°C – 90°C: Perfect for speciality teas such as green tea, white tea and oolong.
95°C: Perfect for French Press and instant coffee.
100°C: Perfect for black tea, English breakfast, Earl Grey, hot chocolate, chai, instant soup, fruit teas and herbal teas.
You can also take control with manual temperature controls – easily increase or decrease the temperature selection in 5°C increments, from 40°C to 100°C.
A live temperature readout displays real-time information as the temperature climbs to your selected preset.
Rapid Boil
Quickly boil 1 cup in under 50 seconds with this 3000W electric fast boil kettle. Perfect for making that first morning coffee in a hurry.
Hold Temp feature
This clever feature maintains your selected water temperature for up to 30 minutes. Simply press the Hold Temp button at the beginning, middle or end of a program to automatically keep the water at your target temperature. Perfect for making a second drink as delicious as the first – no need to re-boil your kettle.
Easy to Use
Choose your perfect temperature at the touch of a button with simple controls on the base. Thanks to the handy water window with blue illumination and markings up to 1.7L or 7 cups, easily fill the kettle to your desired level and see how much water is inside.
This Ninja kettle's digital control panel will automatically enter sleep mode after 5 minutes of inactivity. The kettle is BPA-free for your peace of mind, and the spout features a removable scale filter for easy cleaning.
---
Ninja Foodi 2 in 1 Toaster & Grill (ST100UK)
---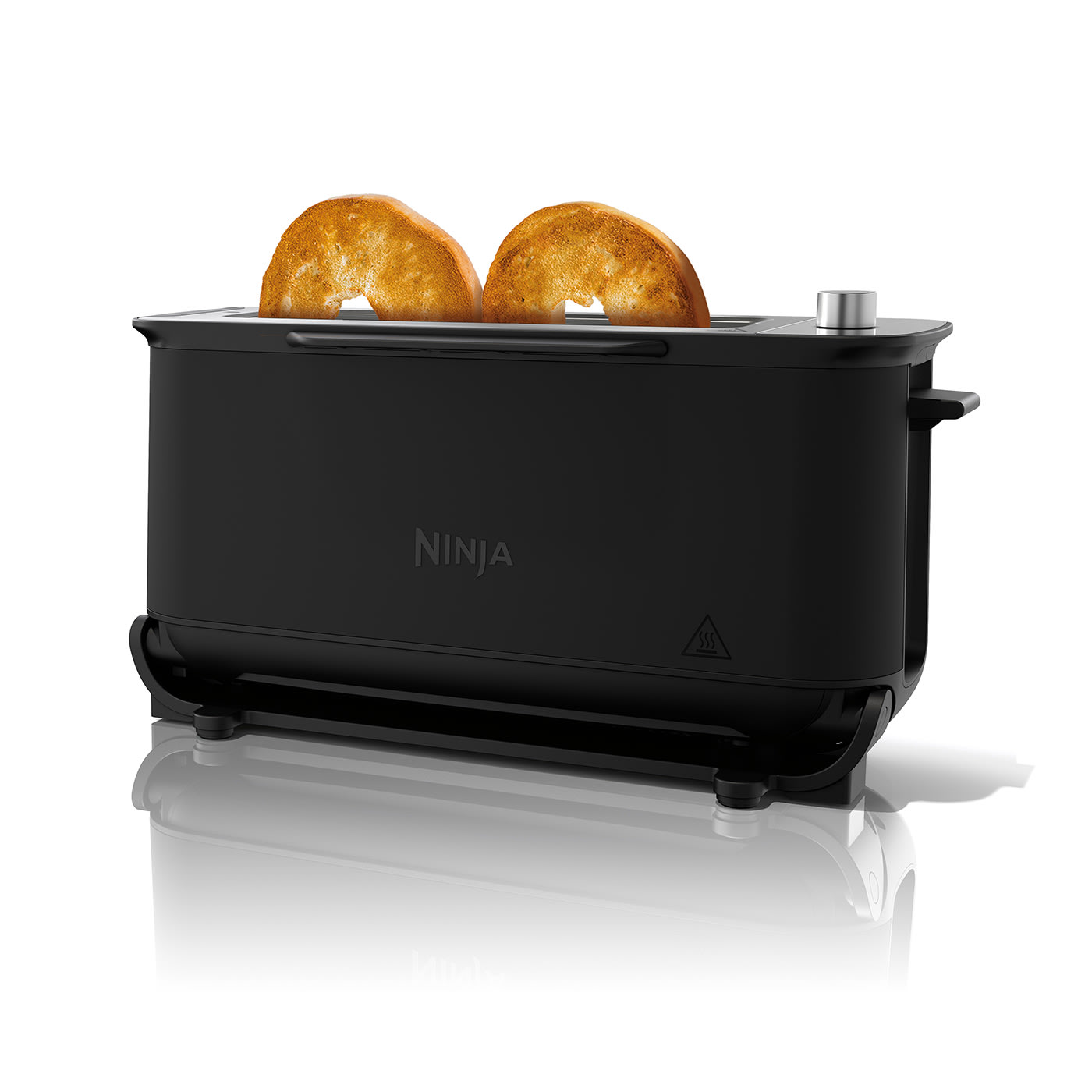 More than a toaster. From perfectly golden toast, bagels and crumpets to cheese on toast with delicious toppings, this 2-in-1 appliance quickly and easily creates meals and snacks for the whole household.
Get creative with 4 customisable cooking functions – Toast, Bagel, Defrost and Grill.
Create meals and snacks in minutes
Enjoy even, edge-to-edge toasting to your perfect shade. Not just for breakfast, grill artisan bread loaded with toppings, cheese and ham croissants, brunch muffins, pizza bagels, quesadillas, even fish finger sandwiches and loaded potato waffles.
Flip to transform from toaster to grill
With a unique flip design, you can choose between two cooking positions.
Toast your favourite bread, bagels and crumpets to perfection when positioned as a vertical slot toaster or flip down to transform into a versatile horizontal grill.
There's no need to worry about mess with Total Crumb Control, featuring a uniquely designed crumb tray to catch crumbs from both cooking positions.
Toaster mode
The uniquely-designed slot and heating elements deliver even, edge-to-edge results
The long, wide slot easily fits artisan bread or 2 bagel halves
Everyone can choose their ideal toast shade with 7 different toast shade settings
Master the art of the perfectly toasted bagel – the Bagel setting automatically toasts bagel halves to perfection using a higher temperature on the cut side for a golden outside and soft inside
The Defrost setting toasts frozen bread in a matter of minutes
Grill mode
Flip down to grill classic cheese-on-toast, crumpets and muffins loaded with toppings, cheese-topped garlic bread and much more
3 temperature settings give you total control
The included Bake Tray converts the toaster slot into a closed oven
Want to sneak a peek? During cooking you can remove the Bake Tray to check on your food. The timer will pause until you reinsert the tray.
Enjoy endless possibilities at the touch of a button, thanks to the easy-to-use digital control panel and built-in timer.
With its contemporary matte design, this sleek black toaster makes a stylish addition to any kitchen.
Instant Wins

| Ticket No. | Prize | Winner |
| --- | --- | --- |
| 1422 | Ninja Air Fryer AF100UK ⭐️ | |
| 2370 | Ninja Air Fryer AF100UK ⭐️ | |
| 237 | £25 RU CREDIT | |
| 474 | £25 RU CREDIT | |
| 948 | £25 RU Credit | |
| 1659 | £25 RU Credit | |
| 1896 | £100 Cash | |
| 2133 | £25 RU Credit | |
| 711 | Ninja Air Fryer AF100UK ⭐️ | Thomas Sheppard |
| 1185 | £100 Cash | Jonathan Hernando |