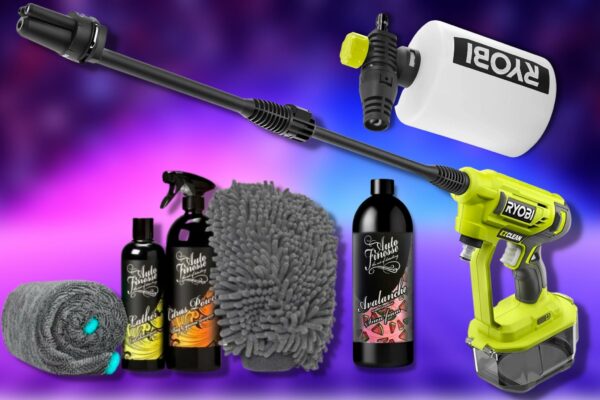 Ryobi RY18PW22A-125 18V ONE+ Cordless 22bar Power Washer Kit (1 x 2.5Ah)
Rather than the hassle of getting out a pressure washer to clean your vehicle, bike, or other surface, simply grab your power washer, connect to a hose, and you're ready to go
Clean on the go! Use the included syphoning kit to pull water from any fresh water source, like a lake or even a bucket, to clean anywhere
6m syphoning kit hose means greater flexibility of movement when cleaning away from the home
3-in-1 nozzle includes a turbo nozzle for tough cleaning applications, 15° fan spray for general cleaning, and a shower function for rinsing
4 x more power than a standard garden hose to quickly clean a variety of surfaces
Ryobi RAC748 Detergent Bottle for RY18PW22A-0 
Apply detergent easily to your surface with the RAC748 750mL detergent bottle
Compatible with Ryobi RY18PW22A-0 ONE+ 18V Power Washer
Not compatible with Ryobi AC Pressure Washers
---
Ultimate Wash Kit
The Auto Finesse Ultimate Wash Kit contains everything you'll need to conduct a thorough wash of your vehicle. The kit includes the following:
1 x Citrus Power 1-litre 
Our infamous bug and grime remover – a must in any wash stage! Citrus Power features a gentle but effective formula to remove contaminants with ease, without the need for any scrubbing. And it won't deteriorate wax or sealant layers. Its gentle nature means it can be used to degrease motorcycle engines and lacquered door shuts, as well as enamelled badges. It's safe to use on paintwork, glass, as well as plastic. Spray the formula onto the affected area and allow it to dwell for several minutes. Finish by jet washing off.
1 x Lather 500ml – 
An absolute must in any detailer's kit! Our dependable vehicle shampoo is sealant-safe and features a pH-neutral solution including highly-concentrated lubricants. And it has the sweet scent of tangerine! Coupled with a good car wash technique such as the two-bucket rule, this translates to swirl-free washing. Lather comes neat, but can be diluted down to suit your needs. The dirtier your car, the more neat shampoo should be used. Be sure to use snow foam first to rid the vehicle of any loose particles that could put swirl marks in your paint.
1 x Noodle Wash Mitt – RRP.
The Auto Finesse® Noodle Mitt is the latest accessory in the range ensuring you're on your way to a swirl-free finish. Durable, ultra-plush synthetic fibres ensure this mitt will outlast others on the market and shampoo will glide across your paintwork.
1 x Aqua Deluxe Drying Towel 
Our Aqua Deluxe Drying Towel measures 500mm x 700mm and has a deep pile of 1200GSM to quickly absorb surface water, reducing water spots and keeping paintwork swirl free.
Avalanche Watermelon 1-Litre – Snow Foam
The citrus-infused, foaming pre-cleaning essential that's designed to linger on surfaces for longer, Avalanche Snow Foam is one of the most effective detailing must-haves for the ultimate swirl-free wash.
Capable of removing traffic films and breaking down, loosening and lifting grit and grime, this aqueous cleaning agent encapsulates sharp particles safely into the foam and away from surfaces, allowing these potentially damaging – and often stuck-on – contaminants to be rinsed away without inflicting swirl marks or other defects. This makes using snow foam an essential part of the pre-wash process, one of the most vital stages in detailing where the heaviest, gritty particulate grime is removed without making any contact with the vehicle. Avalanche also works its way into awkward panel gaps and shuts to effectively pre-clean the unseen areas, too.
Sharp particles and heavy contamination can easily cause abrasion and inflict defects when dragged around on paintwork or gloss plastics with your wash mitt. So, for the safest wash possible, these contaminants must be removed prior to your 2-bucket contact wash. This means that following an effective pre-wash routine is crucial both on regular maintenance washes, and to limit the amount of polishing and correction needed during more in-depth details.