WIN THIS META QUEST 2 OR PICO 4!
 ENTRIES ONLY £0.49
MAX ENTRIES ONLY 1383
MAX 250 PER PERSON
UK & NI ONLY
---
Meta Quest 2
---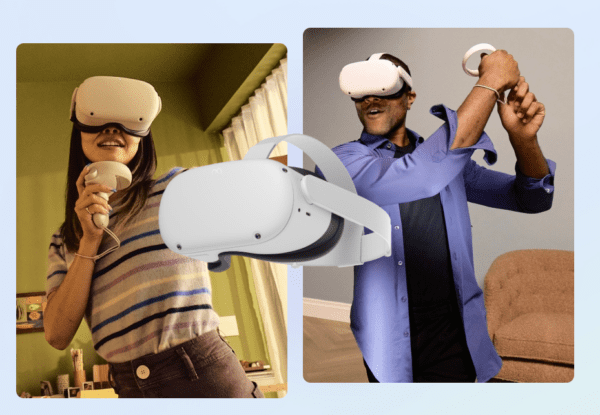 Quest 2 is the all-in-one system that truly sets you free to roam in VR. With no wires or cables to limit your experience, simply put on the headset, draw out your play space, and jump into fully immersive, imagination-defying worlds. A super-fast processor and high-resolution display help to keep your experience smooth and seamless, even as high-speed action unfolds around you. 3D positional audio, hand tracking and haptic feedback make virtual worlds feel real.
A built-in battery lets you explore further for longer as you discover a growing library of over 350 titles across gaming, social/multiplayer, fitness and entertainment. Incredible social spaces and multiplayer arenas let you meet, play and build communities with people from all over the world.
Travel universes in blockbuster fantasies, scare yourself witless in horror adventures or collaborate with colleagues in innovative workspaces. Sit front row with friends and family at movies and live events, find your new workout crew or join quests with fellow adventurers.
You can access over 1,000 titles in the Rift library by connecting your VR headset to a gaming-compatible computer (PC and cable sold separately).
Let your friends and family into your VR world by casting your experience to compatible TVs and other screens. And anywhere you go in the real world, you can take your lightweight, portable Quest 2 with you. Meta Quest is for ages 13+. Requires mobile device, Wi-Fi and companion app for setup. Account registration is required.
---
Pico 4
---
The PICO 4 All-in-One VR Headset combines high-quality software with a comfortable-to-wear hardware device. Without the need for additional equipment or cables, you can play all day long with ease thanks to a new lightweight design for maximum comfort. The small and lightweight PICO 4 weighs only 300g without the strap. The hard strap design is elegant and provides a balanced wearing experience.
The new PICO 4 brings a brighter screen and 4K+ resolution, 35% higher than the typical 4K. More detailed image is delivered through the 1,200 PPI screen and more vivid and immersive colours are possible thanks to the 85% saturation rate. 360 degree surrounding stereo speakers, supports 3D spatial effects, audio lower to 200Hz.
A 90Hz refresh rate and lower latency overcome the feelings of motion sickness. PICO 4 also gives an improved motion tracking performance delivering a more accurate, low-latency tracking experience.
The PICO Store offers over 250 games (with new releases each week), apps and sports (with the Fitness App that includes a calorie counter and performance tracker) live video performances (concerts, music festivals) and exclusive releases. Plus, wirelessly stream more than 4000 titles when connected to your PC VR library.
These 3 Legends won one of our Meta Quest 2 Competitions,
will you be next with the Meta Quest 2 Or The Pico 4?