Win a NINJA FOODI MAX PRO FOR FREE!
No, he didn't order the wrong one this time! 
20 X FREE ENTRIES PER PERSON!
UK & NI ONLY
Start Date: 16/8/23
End Date: 23/8/23
---
Take everyday cooking to the next level with this next generation indoor grill from Ninja. Cook with the lid open or closed and unlock a new food adventure with 2 interchangeable cooking surfaces.
More than a grill – because it's a Foodi, you can also air fry, bake, roast and more with 7 customisable functions.
2 Interchangeable Grill Plates
Powered Grill Plate – Independently powered for direct, edge-to-edge high-heat, this powerful grill plate locks in juices and creates authentic chargrilled results. Enjoy intense searing, flavoursome results and deep grill marks. Perfect for steakhouse-style grilling, whether you prefer sizzling steaks and pork chops, juicy sausages, marinated chicken breasts, tuna steaks, halloumi skewers, veggie kebabs, chargrilled corn on the cob or even frozen foods. Cook with the lid open or closed.
Flat Plate – Cook food grills can't. Quickly sear and sauté delicate ingredients – perfect for sliced vegetables and thin cuts of meat and fish, such as sirloin steak, scallops, prawns and salmon. The smooth Flat Plate interlocks with the powered grill plate to harness the high heat. And now you can also cook with the lid open – perfect for creating a full English breakfast fry-up, fluffy American pancakes with crispy bacon, fried eggs, grilled cheese sandwiches, burgers, fajitas, stir fried vegetables, teppanyaki-style cooking and more.
No Guesswork
How do you like your steak? From rare to well done, simply choose your desired finish and Ninja's Smart Cook System does all the work!
The Digital Cooking Probe precisely monitors your food's temperature during cooking, so you don't have to! Cook your favourite meat and fish exactly as you like it.
Simply select a cooking function and food type from handy preset options. From rare to well done, choose your desired outcome and cook your food with the leave-in Digital Cooking Probe in place. When the grill beeps, take your food out to rest – the digital display timer indicates when it's ready to serve.
No guesswork. No need to worry about under or overcooking. No need to cut into food to see if it's ready. Audible alerts let you know when your food is ready to remove and rest before serving.
When it's not in use, there's a handy magnetic compartment in the base of the grill to keep your temperature probe neatly stored away.
No Flip Grilling
With the lid closed, Cyclonic Air Technology circulates temperatures up to 260°C around your food, cooking quickly and evenly with no need to flip. Enjoy fast, juicy, chargrilled results with all-around searing.
The captured high-heat airflow is also perfect for melting cheese and crisping toppings, from a grilled cheese sandwich to loaded nachos.
Low Smoke
More flavour, less smoke. A removable, dishwasher-safe splatter guard keeps the heating element clean, working alongside a temperature-controlled grill plate and cool-air zone to help keep smoke under control.
More than a Grill
Create delicious meals, sides and desserts with 7 ways to cook.
Grill your outdoor favourites, indoors. Cook sizzling steaks, smashed burgers, juicy sausages, crispy bacon, chicken breasts in a spicy marinade, tuna steaks, prawn kebabs, grilled asparagus, corn-on-the-cob, fresh peaches and more.
The Flat Plate setting is expertly designed to work with the flat grill plate's smooth cooking surface, perfect for delicately cooking fajita chicken, peppers and onions, spicy stir fries, bacon and eggs, sriracha-glazed salmon, fluffy pancakes, loaded nachos – even an authentic-style homemade pizza.
Transform into an Air Fryer to create low-fat versions of your fried favourites – up to 75% less fat than deep frying*. From chunky chips and spicy sweet potato wedges to southern-fried chicken goujons and crispy broccoli florets.
Roast a delicious joint of beef or lamb, a spatchcock chicken, herb-infused root vegetables, fluffy roast potatoes and more.
Bake your way to sweet and savoury treats, from garlic focaccia to chocolate chip cookies.
Dehydrate fresh ingredients to create homemade jerky, dried fruit, vegetable crisps and even dried herbs.
Reheat leftovers to restore that delicious fresh-out-of-the-oven finish – perfect for pizza, quiche, spring rolls and more.
With simple controls and a digital display, it's easy to select your preferred program and choose between pre-set cooking levels or choose your own heat with variable temperature controls.
Perfect for 4-6 people with a 3.8L Crisper Basket. The large capacity grill plate can cook up to 6 burgers.
Cook from frozen to chargrilled, no thawing required.
Washing up is a breeze – all removable accessories are non-stick and easy to clean, while some parts can go in the dishwasher. All the accessories nest together for easy, compact storage.
These 4 Legends won one of our Ninja Competitions, will you be next with the Ninja Foodi Max Pro?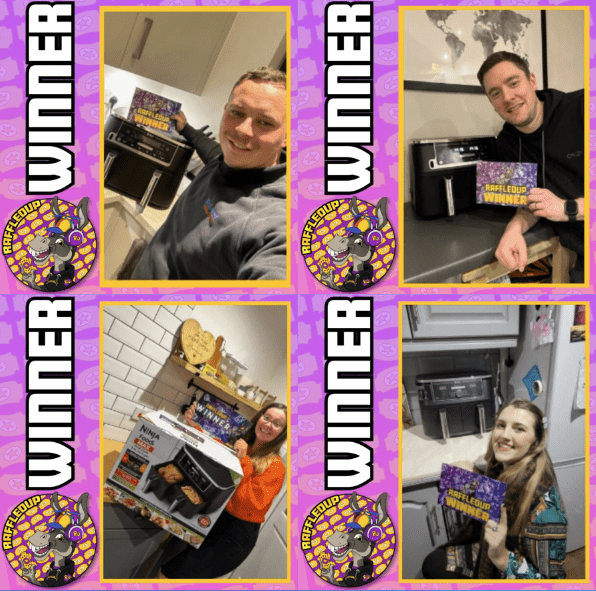 ---