CHOICE OF LEGO
Hulkbuster​
LEGO® Marvel Hulkbuster (76210) captures the scale and power of the Hulkbuster MK44 from Marvel Studios' Avengers: Age of Ultron. Standing over 52 cm (20.5 in.) tall and containing 4,049 pieces, this challenging and rewarding construction project is designed with adult enthusiasts in mind.
Authentically engineered
The model features a multitude of movie-accurate features. Within the dark red armour and strategically positioned golden plates lies a spacious cockpit, from which the LEGO Marvel Iron Man Figure (76206) – sold separately – controls the heavy-duty armor. The set also includes an information plate and a Tony Stark minifigure.
LEGO brick kits for adults
This model is part of an extensive range of LEGO Marvel Sets for Adults.
Collectible movie colossus – This 4,049-piece LEGO® Marvel Hulkbuster (76210) captures the scale and power of the Hulkbuster MK44 from Marvel Studios' Avengers: Age of Ultron
Authentic details – The model incorporates 3 light-up arc reactors (1 in the chest and 1 in each hand), a fully jointed upper body and a spacious, opening cockpit
Combine with an Iron Man pilot – The cockpit is designed to hold the LEGO® Marvel Iron Man Figure (76206) – sold separately
A sure-fire conversation-starter – This display piece also includes an information plate that holds a Tony Stark minifigure carrying tools
Gift for adults – Model-makers and Marvel enthusiasts will find this challenging build-and-display project provides pleasure and fulfilment long after the construction work is over
Film memento – Measuring 52 cm (20.5 in) high, 47 cm (18.5 in) wide and 24 cm (9.5 in) deep, this celebration of the Marvel films can be displayed in the home or workplace
High-quality printed instructions – Embark on this construction project as soon as you open the box
Relax and recharge – The range of premium LEGO® Sets for Adults provides a rewarding build-and-display experience that lasts long after the construction work has been completed
Quality guaranteed – LEGO® components fulfil stringent industry quality standards to ensure they are consistent, compatible and connect easily every time
Safety assured – LEGO® components are dropped, heated, crushed, twisted and analysed to make sure they satisfy rigorous global safety standards
---
OR
---
Millennium Falcon™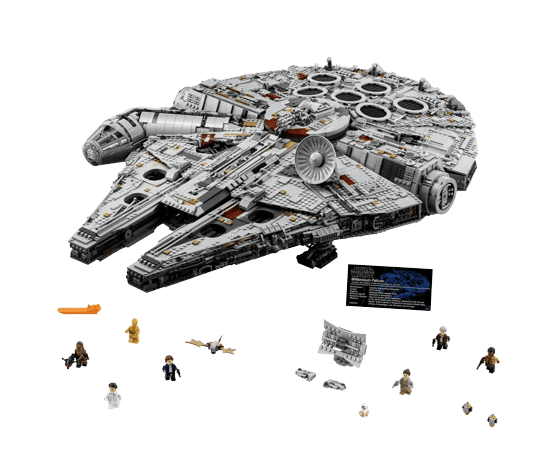 Welcome to the largest, most detailed LEGO® Star Wars Millennium Falcon model we've ever created—in fact, with 7,500 pieces it's one of our biggest LEGO models, period! This amazing LEGO interpretation of Han Solo's unforgettable Corellian freighter has all the details that Star Wars fans of any age could wish for, including intricate exterior detailing, upper and lower quad laser cannons, landing legs, lowering boarding ramp and a 4-minifigure cockpit with detachable canopy. Remove individual hull plates to reveal the highly detailed main hold, rear compartment and gunnery station. This amazing model also features interchangeable sensor dishes and crew, so you decide whether to play out classic LEGO Star Wars adventures with Han, Leia, Chewbacca and C-3PO, or enter the world of Episode VII and VIII with older Han, Rey, Finn and BB-8!
Includes 4 classic crew minifigures: Han Solo, Chewbacca, Princess Leia and C-3PO.
Also includes 3 Episode VII/VIII crew minifigures: Older Han Solo, Rey and Finn.
Figures include a BB-8 droid, 2 buildable Porgs and a buildable Mynock.
Exterior features include intricately detailed and removable hull panels, a lowering boarding ramp, concealed blaster cannon, 4-minifigure cockpit with detachable canopy, interchangeable round/rectangular sensor dishes, upper and lower quad laser cannons, and 7 landing legs.
Main hold features a seating area, Dejarik holographic game, combat remote training helmet, engineering station with turning minifigure seat and a doorway build with passageway decoration.
Rear compartment features the engine room with hyperdrive and console, 2 doorways, hidden floor compartment, 2 escape pod hatches, engineering console and an access ladder to the gunnery station.
Gunnery station features a minifigure gunner's seat and detachable hull panel with fully rotating quad laser cannon. An additional quad laser cannon is also mounted on the underside.
This model includes 7,500 pieces.
Also includes an informational fact plaque.
Features a new-for-October-2017 cockpit canopy element.
Classic crew weapons include Han's blaster pistol and Chewbacca's stud-firing bowcaster.
Episode VII/VIII crew weapons include Han's blaster, Rey's small silver blaster and Finn's medium blaster rifle.
Change out the features and crew characters to switch between classic and Episode VII/VIII versions of the Millennium Falcon!
Open individual hull panels to access the detailed interior while retaining the overall exterior appearance.
Slide the panel to reveal the concealed blaster cannon.
Turn classic Leia's and Han's head to reveal their breathing mask decoration.
Makes the perfect intergalactic toy or flagship display model.
Measures over 8" (21cm) high, 33" (84cm) long and 23" (60cm) wide.
---
OR
---
Hogwarts™ Castle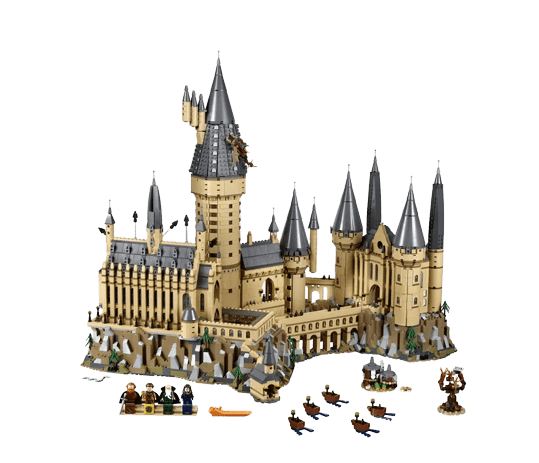 Make the magic come alive at the LEGO® Harry Potter™ 71043 Hogwarts™ Castle! This highly detailed LEGO Harry Potter collectible has over 6,000 pieces and offers a rewarding build experience. It comes packed with highlights from the Harry Potter series, where you will discover towers, turrets, chambers, classrooms, creatures, the Whomping Willow™ and Hagrid´s hut, plus many more iconic features. And with 4 minifigures, 27 microfigures featuring students, professors and statues, plus 5 Dementors, this advanced building set makes the perfect Harry Potter gift.
Includes 4 minifigures: Godric Gryffindor, Helga Hufflepuff, Salazar Slytherin and Rowena Ravenclaw, with a buildable minifigure display stand.
Also features 27 microfigures: Harry Potter™, Ron Weasley™, Hermione Granger™, Draco Malfoy™, Albus Dumbledore™, Professor Snape™, Professor McGonagall™, Remus Lupin, Professor Dolores Umbridge™, Argus Filch, Lord Voldemort™, Bellatrix Lestrange, 3 students from each of the 4 houses, 2 chess pieces and the Architect of Hogwarts™ statue and 5 Dementors, plus Aragog the spider and the Basilisk figures, and a buildable Hungarian Horntail dragon.
Features a buildable microscale model of Hogwarts™ Castle, hut of Hagrid™, Whomping Willow™ tree and 5 boats.
Hogwarts™ Castle features the Great Hall with buildable 'stained glass windows', house banners, benches, tables, flaming torches and moving staircases; potions classroom with racks of jar elements; Defence Against the Dark Arts classroom with assorted potion jars, gramophone and a closet containing a boggart; Chessboard Chamber with chess piece elements; Room of Requirement with assorted elements, including the Goblet of Fire and the vanishing cabinet; Chamber of Secrets™ with the Basilisk and Tom Riddle's Diary; hidden Devils Snare room with vine elements; Gryffindor™ common room with fireplace and seating; Professor Dolores Umbridge's office with desk, chair and pink furnishings; library with bookcase and desks; and Professor Dumbledore's office with the Griffin statue entrance and Memory cabinet.
Hagrid's hut features Aragog the spider and buildable pumpkins.
The Whomping Willow™ includes the buildable blue Flying Ford Anglia car in its spinning branches.
Also includes 5 buildable boats.
Take a seat in the Great Hall and feast with the Hogwarts™ professors and students!
Sneak your way into the Chamber of Secrets™ through the secret entrance and face the Basilisk!
Attend a Defence Against the Dark Arts class to learn how to protect yourself from dark magic!
Climb the moving staircase!
Study for your Ordinary Wizarding Level exams in the library.
Accessory elements include the Sword of Gryffindor™, Helga Hufflepuff´s cup, wands, potions, house banners, flames, a cauldron and 2 magnifying glasses.
Microfigure accessories include 2 chess statues and the Architect of Hogwarts™ statue.
Hogwarts™ Castle measures over 22" (58cm) high, 27" (69cm) wide and 16" (43cm) deep.
---
---
Instant Wins

| Ticket No. | Prize | Winner |
| --- | --- | --- |
| 131 | £25 RU CREDIT | |
| 262 | Ghostbusters™ ECTO-1 | |
| 655 | Luke Skywalker's Landspeeder™ | |
| 1234 | Diagon Alley™ | |
| 1310 | Super Mario 64™ Question Mark Block | |
| 1441 | £25 RU CREDIT | |
| 1572 | Back to the Future Time Machine | |
| 1703 | £5 RU CREDIT | |
| 1834 | Professors of Hogwarts™ | |
| 1965 | £50 RU CREDIT | |
| 2096 | Venom | |
| 2358 | £5 RU CREDIT | |
| 2620 | £25 RU CREDIT | |
| 2751 | Sunflowers | |
| 3013 | £5 RU CREDIT | |
| 3144 | Dark Trooper™ Helmet | |
| 3275 | £10 RU CREDIT | |
| 3406 | £25 RU CREDIT | |
| 3537 | LEGO® Star Wars™ Advent Calendar | |
| 3799 | Infinity Gauntlet | |
| 4061 | Thor's Hammer | |
| 4323 | Porsche 911 | |
| 4716 | Jake & Neytiri's First Banshee Flight | |
| 4978 | £25 RU CREDIT | |
| 4999 | Bonsai Tree | |
| 5109 | Vincent van Gogh - The Starry Night | |
| 5240 | £5 RU CREDIT | |
| 5371 | Classic TV Series Batman™ Cowl | |
| 5502 | £5 RU CREDIT | |
| 5633 | £50 RU CREDIT | |
| 5764 | Koi Fish | |
| 6157 | Optimus Prime | |
| 6288 | The Mandalorian™ Helmet | |
| 6812 | Horizon Forbidden West: Tallneck | |
| 6943 | £5 RU CREDIT | |
| 7074 | £10 RU CREDIT | |
| 7205 | Volkswagen T2 Camper Van | |
| 7336 | £5 RU CREDIT | |
| 7467 | Sonic the Hedgehog™ – Green Hill Zone | |
| 393 | Hogwarts™ Wizard's Chess | Ian G. |
| 524 | I am Groot | Rebecca D. |
| 786 | £10 RU CREDIT | John G. |
| 917 | Great Pyramid of Giza | Andrew C. |
| 1048 | £10 RU CREDIT | Ian G. |
| 1179 | £10 RU CREDIT | Andrew C. |
| 2227 | £10 RU CREDIT | Stuart A. |
| 2489 | Guardians of the Galaxy Advent Calendar | Antony W. |
| 2882 | £10 RU CREDIT | David M. |
| 3668 | £5 RU CREDIT | Simon J. |
| 3930 | £10 RU CREDIT | Michael L. |
| 4192 | £10 RU CREDIT | jake h. |
| 4321 | £5 RU CREDIT | Trent S. |
| 4454 | £50 RU CREDIT | Ali C. |
| 4585 | Nano Gauntlet | Charlotte D. |
| 4847 | £5 RU CREDIT | MARK N. |
| 5895 | Luke Skywalker™ (Red Five) Helmet | Michael L. |
| 6026 | £50 RU CREDIT | Callum B. |
| 6419 | BD-1™ | Darren H. |
| 6550 | International Space Station | Stuart A. |
| 6681 | £10 RU CREDIT | Michael N. |
| 7598 | The Child | Emma D. |