CHOICE OF
A combination of juice flavors; passion fruit, orange, and pineapple with the functionality of Monster Energy 100 Calories per 8 oz. serving Full functionality of Monster Energy blend with 16% real juice Monster packs a powerful punch but has a smooth easy drinking flavour
---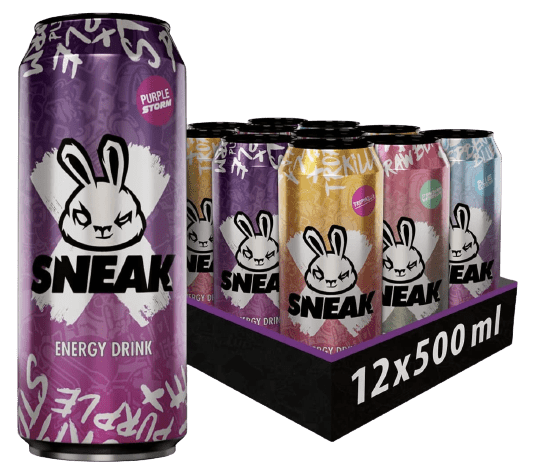 MIXED FLAVOURS – Contains Strawberry Watermelon, Blue Raspberry, Tropikilla and Purple Storm.
ALL NATURAL – Using only all natural colours and flavours to create our exceptionally tasty authentic blend for the ultimate high performance gaming boost
ULTIMATE GAMING BOOST – Zero Sugar and 12 calories per serving, with SNEAKS secret blend of ingredients giving the ultimate gamer long lasting focus, drive and hydration for any gaming session
READY TO GRAB – Retaining all the taste of the tubs with the kick of carbonation, and filled with all the same benefits that go in to signature flavours, our cans are ready to grab, ice cold, straight from the fridge.
HIGH PERFORMANCE – Giving you energy to create with 150mg of caffeine per serving, guaranteed to level-up your gaming experience
---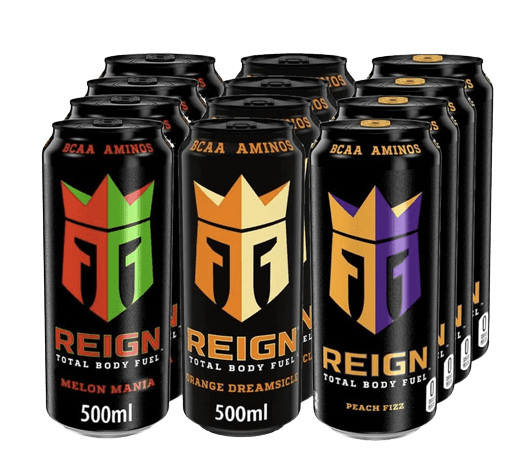 4 x Reign Orange Dreamsicle 500ml Cans – is the perfect blend of orange citrus and vanilla bean flavours.
4 x Reign Melon Mania – brings sweet summertime watermelon with a side of wild.
4 x Reign Peach Fizz – has the flavour of succulent peach with a hint of citrus and a sparkly finish.
REIGN has B-vitamins to reduce fatigue and has no artificial colours or flavourings which create a clear carbonated treat to consume before and during your workout.
Serve ice cold for maximum refreshment.
B vitamins – B3, B6, B12.
---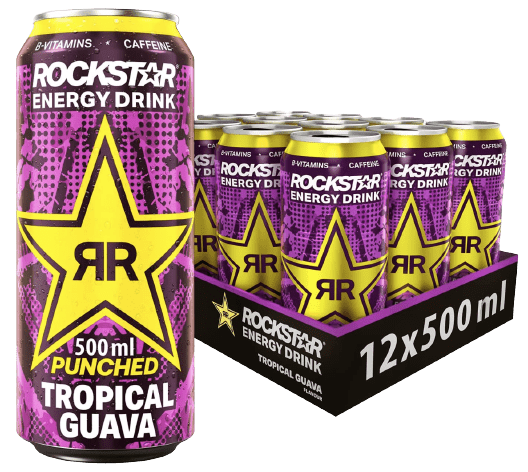 TROPICAL GUAVA – Flavoured energy drink with added caffeine, taurine, guarana, ginseng, and B-Vitamins. Rockstar is the original big can energy drink, and it is that West Coast American spirit that delivers a fun, positive and very cool energy drink that has explosive flavour
ENERGISES & REFRESHES – The big can energy drink – a 500ml kick of energy. A drink made for high performance. Remember, real stars dont chase the spotlight, it chases them
REDUCES TIREDNESS & FATIGUE – Vitamins B3, B6, and B12 contribute to the reduction of tiredness and fatigue. Anything is possible with this high energy and high performance drink. Go forth and conquer!
STAY SHARP – Contains 200mg caffeine per 500ml can. Is designed for those who lead active lifestyles – from athletes to rock stars. Helps you stay sharp and hustle so you can keep your eye on the prize
SUPPORTS ACTIVE LIFESTYLES – A varied and balanced diet and a healthy lifestyle are recommended. Designed to get you out of the comfort zone. Consume responsibly. The recommended intake of caffeine for adults is 200-300 mg per day. Consult your dietician for your specific needs