CORSAIR iCUE H150i ELITE CAPELLIX
---
With everything, you could be looking for in regard to a liquid dissipation system the new MAG CORELIQUID. Excellent build quality and super-efficient heat dissipation will be yours, in addition to synchronizable RGB LED lighting. Each individual component of the MAG CORELIQUID series is built to provide the cooling you need without compromise. Noise reduction is facilitated with an integrated radiator pump. Plus, placing the pump inside the radiator further increases the longevity of the kit, keeping it away from heat sources.
---
EK Water Blocks EK-AIO 360 D-RGB All In One CPU Water Cooler – 360mm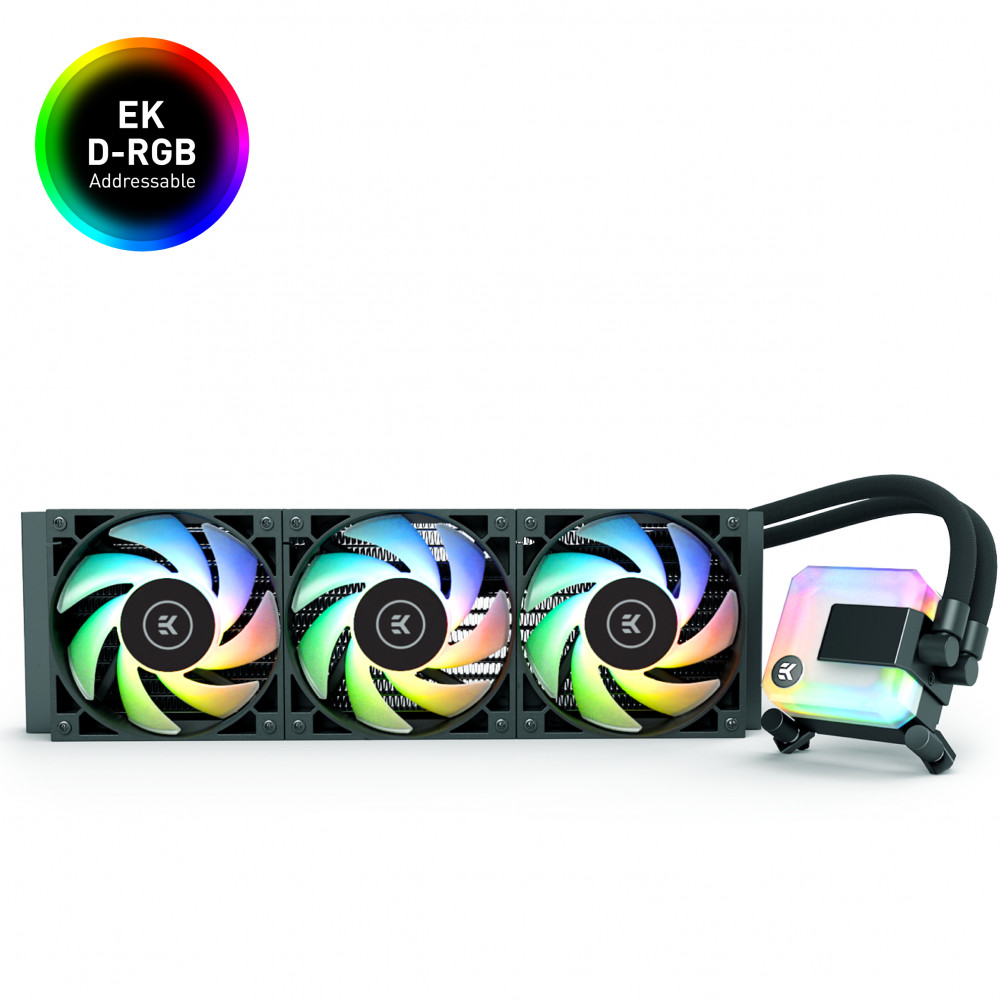 The EK-AIO 360 D-RGB is an all-in-one liquid cooling solution for your CPU. It offers all the benefits of a water-cooling solution in a compact, easy to install and maintenance-free design. The EK AIO comes with a universally compatible CPU water-block, along with a pre-filled pump-res combo design for a liquid cooling solution that's ready to go straight out of the box. It's simple, efficient and comes with fully customizable D-RGB lighting.
Easy installation with Universal Compatibility – The EK AIO comes with a universally compatible CPU water-block, fitting all the latest Intel & AMD CPU sockets as well as featuring a tool-less mounting mechanism for easy installation. Requiring just a single radiator mount, with diamond cut rotary fittings for easy tube adjustment, the EK AIO offers compatibility with almost all modern case designs.
Dynamic Addressable D-RGB lighting – Customize your EK AIO to match your set-up with its range of fully addressable D-RGB lighting effects. Built into both its CPU block and Vardar S fans, the EK AIO offers a range of color configurations controlled from either your motherboard or standalone RGB controller. The EK AIO CPU monoblock features a full acrylic cover, acting as a light diffuser with its frosted finish, for a dynamic lighting display with smooth color transitions.
This product is compatible with popular RGB sync technologies from all major motherboard manufacturers. The arrow marking on the 3-pin LED connector is to be aligned with the +5V marking on the A-RGB (D_RGB) header. You can easily remove the LED strip cover which is mounted with two screws to replace the LED strip with some other type of LED strip.
Ultra-durable design with diamond-cut rotary fittings – The EK AIO comes pre-installed with reinforced and sleeved rubber tubing, each fitted with an aluminum cover to ensure they're ultra-durable. Its diamond-cut rotary fittings allow for easy installation and adjustment of the rubber tubing, featuring a full range of movement to make the EK AIO suitable for installation in even the tightest spaces.
EK-Vardar High-Performance Fans – The EK-Vardar S included with the EK AIO are industrial grade high-static PWM fans, designed and built primarily for high-performance liquid cooling systems. Controlled by either your motherboard or standalone fan controller, the EK Vardar can be adjusted to run at speeds between 550 – 2200RPM for either high airflow or silent running. EK-Vardar S is our first choice for radiator cooling, providing unmatched cooling performance, with fully integrated and customizable D-RGB lighting.
Technical Specifications:
– Radiator Dimensions: 395 x 120 x 28 mm
– Radiator Material: Aluminum
– Fan Compatibility: 120 mm
– Pump Unit Dimensions: 88 x 70 x 53 mm
– Pump Unit Material: ABS Housing, Copper Cold plate, Steel Mounting Pump
– Pump Speed Range: 450 – 2600 RPM ± 10%
– Pump PWM Range: 20 – 100%
– Pump Cable Length: 50 mm
– Pump Unit RGB Type: 5V Digital (Addressable)
– Pinout: 5V, D, Empty, Ground Pump RGB Cable Length: 50 mm
– Tubing Material: Ultra-Low Evaporation Rubber with Nylon Braided Sleeve
– Tubing Length: 400 mm
– Fan Dimensions: 120 x 120 x 25mm
– Fan Speed Range: 550 – 2200 ± 10%
– Fan Noise Level: 36,4dBA (at maximum speed)
– Fan Static Pressure: 2,89 mm H20 = 28,9 Pa (at maximum speed)
– Fan Air Flow: 66,04 CFM = 112,20 m³/h (at maximum speed)
– Fan Cable Length: 500 mm
– Fan RGB Type: 5V Digital (Addressable) Pinout: 5V, D, Empty, Ground
– Fan RGB Cable Length: 50 mm
System Requirements:
– 4-Pin PWM Header for pump and fan operation
– 3-Pin Addressable 5V D-RGB header
Enclosed:
– EK-AIO 360 unit
– EK-Vardar S 120ER D-RGB (3pcs) Mounting Kit
– Tube of Thermal Paste
– User Manual
CPU Socket Support:
– Intel Sockets LGA: 1700, 1200, 1150, 1151, 1155, 1156, 1366, 2011, 2011-3, 2066
– AMD Sockets: AM4
---
Lian-Li GALAHAD AIO 360mm High Performance RGB CPU Water Cooler – White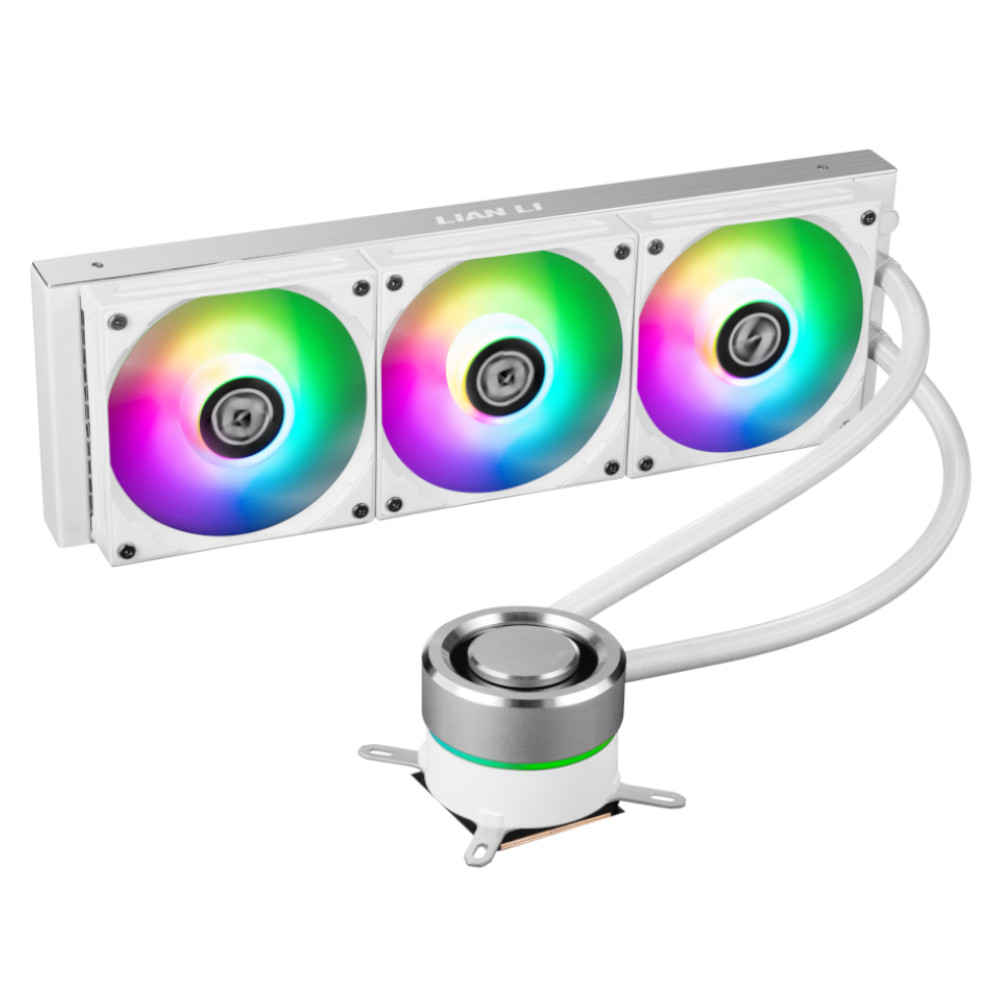 The Galahad AIO cooler is a closed loop All in one CPU cooler designed by Lian Li. It comes with a number features as well as great cooling capacity. The Pump has a magnetic cap so you can alter the look of your cooler with ease. The RGB lighting offers you the ability to add some extra personality to the look of the cooler or just the option to make it match you colour design. You can sync up the cooler with most of the mainboard manufacturers but it also has a controller for a more manual approach.
FEATURES:
– High Static Pressure fan (800-1900 PWM) Air flow max 69 CFM / Air Pressure Max 2.6 mmH2O
– Machine detailed Aluminium Housing
– Easy to sync with motherboard
– Triple Chamber Design Water Pump to increase heat exchange efficiency and reduce dead zone
– High end braided Tubing
– 400mm long tubing for flexibility
– Removable Aluminium cap on block to present two different look
– Multiple Lighting ARGB LEDs mode on Water-block and fan
REMOVEABLE MAGNETIC COVER
The magnetic cap offers you the ability to switch between two different looks to match the interior configuration of your system
CUSTOMISABLE ADDRESSABLE RGB LIGHTING
The 47 Addressable RGB LEDs embedded in the Galahad ensures brighter and complex lighting effects. The Galahad AIO is compatible with most mainstream motherboard software's, allowing users to create a synchronised system with ease. Switch between lighting effects with the LED controller.
MACHINE DETAILED ALUMINIUM HOUSING
The CPU Block pump features an aluminium housing to adorn your build with an exquisite metallic touch. The CPU block can be rotated to ensure a properly aligned logo no matter what the orientation of the block is.
ALUMINIUM SHIELDS ON BOTH SIDES
Both sides of the radiator feature an exquisite aluminium shield, which not only serve as protection for the radiator, ensuring a higher level of durability, but also add an understated metal elegance to your builds.
TRIPLE CHAMBER STRUCTURE
The all new Galahad series features a state of the art triple chamber pump design which combines a pump chamber, the connection chamber, and the cold plate chamber into one unit to significantly reduce the friction produced by the coolant's rapid flow. This design also serves as a protection mechanism to prevent your system from leaks should the CPU block pump be damaged.
MULTI-CHAMBER TECHNOLOGY
The M.C.T design separates the hot and cold liquid flow by conveying them into different, sealed water passages, significantly enhancing the heat exchange efficiency and extending the lifespan of the CPU block pump by preventing the hot liquid from flowing back.
SPECIFICATION:
– Radiator Material: Aluminium and plastic
– Radiator Dimensions: (L) 397.5 x (W) 123.5 x (H) 27 mm
– Fan Dimensions: (L) 120 X (W) 120 X (H) 26 mm
– Fan Speed: 800 – 1900 RPM
– Fan Airflow: 69.17 CFM (Max)
– Fan Air Pressure: 2.6 mmH2O
– Fan MTTF: 40,000 Hours
– Fan Power Connector: 4-PIN
– Fan Rated Voltage: 12V DC
– Pump Dimensions: (L) 87.1 X (W) 74 X (H) 62 mm
– Pump MTTF: 70,000 Hours
– Pump Noise Level: < 20 dBA
– Fan Power Connector: 2510-3-PIN
– Pump Rated Voltage: 12V DC
– Warranty: 5 Years (Fan 2 years)
COMPATIBILITY:
– Intel: 1700, 115X, 1366, 775, 1200, 2011, 2066
– AMD: AM4
– Software: ASUS AURA SYNC, Gigabyte RGB Fusion, MSI Mystic Light and Asrock Polychrome Sync
---
Lian-Li GALAHAD AIO SL 360mm High Performance RGB CPU Water Cooler – Black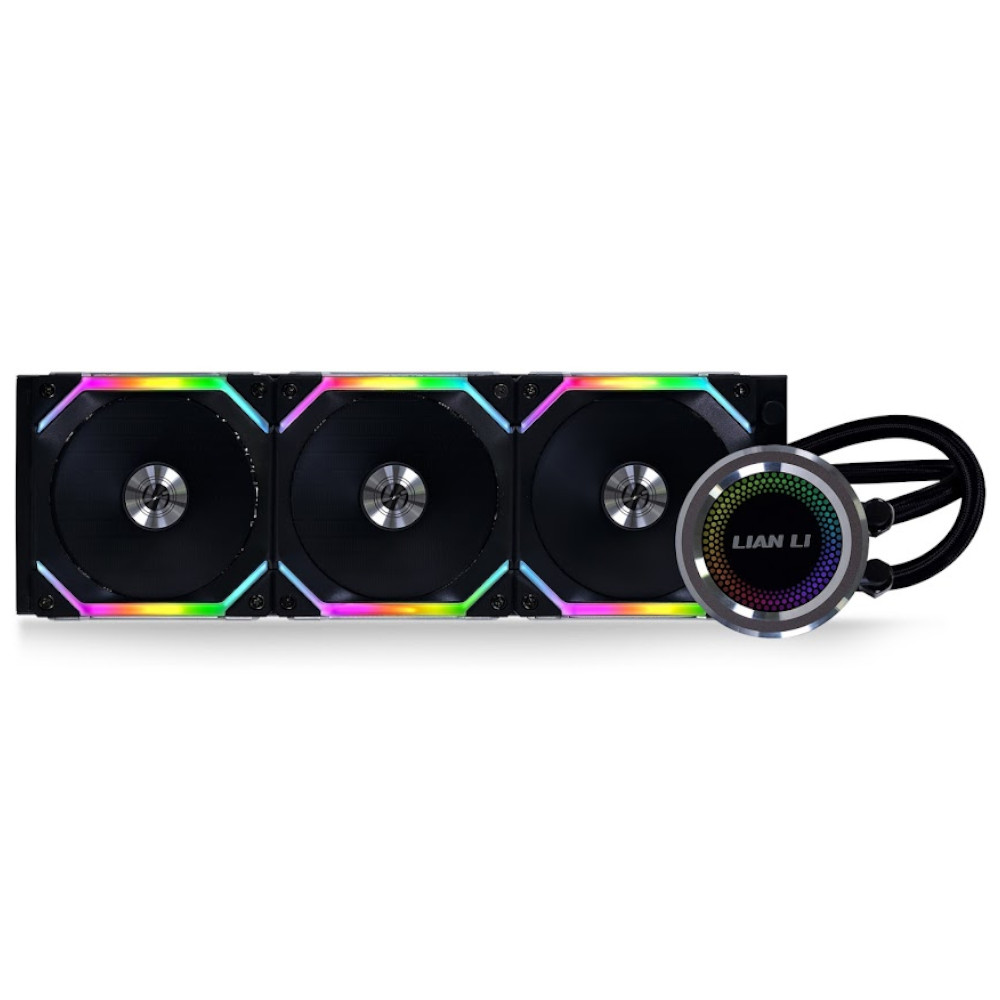 The Lian Li Galahad 360mm AiO Cooler has been updated to include three Lian Li UNI FAN SL 120mm fans. Illuminated by sophisticated RGB lighting and housed in sandblasted aluminium, these AiO coolers are sleek, stylish, and highly efficient. This cooler is extremely effective at siphoning heat out of your gaming PC, thanks to the radiator with intricately folded fins which increase surface area. Plus, with its three-chamber design, the lifespan of the Lian Li Galahad has been greatly increased. Enjoy amazing cooling for years to come.
LIAN LI GALAHAD 360MM AIO COOLER UNI FAN SL EDITION AT A GLANCE:
360mm all-in-one closed water-cooling loop with multi-chamber technology
3 x Lian Li UNI FAN SL 120mm fans included
Magnetic and rotatable aluminium cap for optimised placement
Sandblasted aluminium housing for a sleek and stable exterior
Features sophisticated RGB lighting that can be customised utilising L-Connect
Compatible with AMD's AM4 and a wide selection of Intel LGA sockets
THREE-CHAMBER DESIGN
At the core of the Lian Li Galahad AiO Cooler UNI FAN SL Edition is its aluminium radiator. Highly efficient, this component has a large surface area thanks to the dense 20mm tall fins with a folded design. This wide area allows for much more effective heat dissipation, overall keeping your gaming PC at the ideal temperature – even during heavy workloads.
Optimising performance, the pump is made up of a three-chamber design, combining the standard, connecting, and cold plate chambers into one unit. Called Multi-Chamber Technology (M.C.T.), this configuration allows the cold and hot water to flow separately in sealed passaged, to significantly increase heat transfer. What's more, this reduces friction and allows the liquid coolant to have better rapid flow. The quicker it flows through the radiator, the faster it can be pumped back into the system. Additionally, this feature prevents leaks, serving as protection even if the CPU block is damaged.
UNI FANS SL
Boosting the thermal performance, the Lian Li Galahad features three 120mm fans from the Lian Li UNI FAN SL range. Their inclusion is no surprise, with their sleek aesthetic and high performance. As PWM fans, their speed can be adjusted from 800 to 1900 RPM to suit your needs, creating up to 58.54 CFM airflow with a maximum static pressure of 2.54mmH₂O. Designed to be effective and silent, these fans will not interrupt your gaming experience with noise. In fact, their maximum acoustic noise is roughly 31dB(A).
Each fan utilises a Fluid Dynamic Bearing (FDB), for smooth operation as well as increasing the overall lifespan. The fluid bearing greatly reduces friction, allowing these fans to reach such high RPM without massive power consumption. Every aspect of this fan has been curated with stability and incredible performance as the main driving factor. Featuring a magnetic frame for support, a magnetic rubber ring for stability, and a stator, the Lian Li UNI FAN SL is incredibly secure and durable.
DURABLE MATERIALS
The main material utilised in the manufacturing of the Lian Li Galahad AiO Cooler UNI FAN SL Edition is aluminium. This heat-conductive metal is used for the radiator as well as the housing and shields. The housing has been sandblasted for a smooth and sleek finish, to match the stylish cap. Being magnetic, this cap is easy to switch out, allowing you to choose between the two available designs. Plus, with shielding placed on either side of the radiator, this AiO cooler has immense structural integrity and is made more durable as a result.
SOPHISTICATED LIGHTING
Each fan on the Lian Li Galahad AiO Cooler sports a total of 32 LEDs on its frame, evenly split with 16 on the top and bottom edges. These aRGB LEDs can be controlled and customised utilising Lian Li's software L-Connect. Create different lighting effects to denote different fan speeds or performance levels, setting the colour, effect, brightness, and even direction. Additionally, this software can be used for monitoring and adjusting fan speeds.
Alternatively, the Lian Li Galahad AiO Cooler UNI FAN SL Edition is compatible with most motherboard software packages, therefore these factors can be controlled within one programme rather than across a number of different applications. This also enables you to synchronise lighting effects with the other RGB components in your gaming PC, for a unified and co-ordinated light show.
The Lian Li Galahad AiO Cooler is available in two sizes and two colours. This model is a 360mm cooler in black. Other sizes and colours are 240mm and white.
INCREDIBLE COMPATIBILITY
To keep installation as hassle free and easy as possible, the Lian Li Galahad AiO Cooler UNI FAN SL Edition is largely compatible with most CPU sockets. Everything needed for installation is included, making the whole process simpler. What's more, the CPU cap can be place in one of four configurations, allowing you to rotate as needed.
For socket compatibility, this AiO cooler is can be used with the following:
Intel LGA 115X
Intel LGA 1366
Intel LGA 775
Intel LGA 1200
Intel LGA 1700
Intel LGA 2011
Intel LGA 2066
AMD AM4
---
NZXT Kraken X73 RGB
ENHANCE YOUR SYSTEM WITH SUPERIOR COOLING
Designed for full and mid-tower cases with support for 360mm radiator mounting, the Kraken X73 delivers the highest cooling potential of any Kraken. Kraken combines the benefits of high-performance and signature style into an all-in-one liquid cooler. Enjoy better cooling, visual effects and intuitive installation. Easily fine-tune settings with CAM's software interface, which ensures optimal performance even when playing demanding games. Show off your style with the customisable lighting effects and enjoy super-quiet performance. Included is an RGB Lighting & Fan Control connector which opens up even more lighting options. With a re-designed cap and larger infinity mirror ring LED, the improved Kraken X gives you an amazing experience when it comes to cooling.
Intel Socket LGA 1200/ 115X/ 1366/ 2011/ 2066
AMD Socket AM4/ sTRX4/ TR4
BIGGER AND BRIGHTER THAN EVER
BIGGER LED RGB RING
A 10% bigger LED ring allows for more vivid RGB. A rotatable top accommodates re-orienting the logo no matter what direction the cooler is installed. The RGB channel easily integrates with any RGB accessory, including AER RGB 2 fans.
CONTROLLING YOUR SETTINGS MADE EASY
BETTER CONTROL WITH CAM
CAM provides sophisticated controls with an intuitive, user-friendly interface. Now with better sync for lighting across all NZXT RGB devices, full CAM integration allows you to manage your Kraken's performance with precision, making adjustments with the click of a button.
PERFORMANCE THAT'S QUIET YET EFFICIENT
FITTED WITH AER RGB RADIATOR FANS
Integrating seamlessly into the RGB Lighting & Fan Control ecosystem, Aer RGB fans deliver optimal airflow and advanced lighting customizations. Connect up to five fans per channel or mix-and-match with any RGB Lighting & Fan Control accessory in any channel and synchronize them using CAM for amazing lighting effects that work in perfect harmony.
INSTALLATION IS A TOTAL BREEZE
EASILY PUT INTO YOUR GAMING RIG
Fine nylon mesh sleeves strengthen the rubber tubing, providing durability and protection against mishandling. Adjust the orientation of the pump head* to fit the needs of your motherboard without affecting the direction of the logo.
*The pump orientation can be changed in 30° increments to reduce interference with other components.
ILLUMINATE YOUR PC WITH STUNNING COLOUR
ADVANCED RGB LIGHTING EFFECTS
Customize the look of your CAM-powered Kraken pump with the most advanced RGB lighting effects and NZXT's signature infinity mirror. Both the Kraken X and M series include numerous customizable presets and reactive modes to respond to changes in system conditions, such as temperatures and audio output.
Lighting Effects:
Fixed  |  Breathing  |  Marquee  |  Spectrum Wave
General
Processor liquid cooling system
Plastic, aluminium, nylon, rubber, brass, copper
Heatsink & Fan
LGA1156 Socket, LGA1366 Socket, LGA1155 Socket, LGA2011 Socket, LGA1150 Socket, LGA2011-3 Socket, LGA1151 Socket, Socket AM4, LGA2066 Socket, Socket TRX4, Socket sTRX4, LGA1200 Socket
Core i9 ¦ Core i7 ¦ Core i5 ¦ Core i3 ¦ Pentium ¦ Celeron ¦ Ryzen
Aluminium
394 mm x 121 mm x 27 mm
3
120 mm
26 mm
Fluid dynamic bearing
500-1500 rpm
17.48-52.44 cfm
0.15-1.35 mm
22 – 33 dBA
4-pin fan connector
12 V
0.18 A
2.2 W
RGB LED