CHEAP MEGA BUNDLE – 110 INSTANT WINS!

GET ANY NUMBER BELOW, YOU'LL WIN THAT PRIZE INSTANTLY!

Please DO NOT announce any instant wins you get on Social Media, we will announce instant winners on draw day!

There is no cash alternitive on all prizes unless stated otherwise!

If you are one of the lucky legends that bags one of the instant wins, message us on Facebook for the fastest delivery of your prize!

Instant wins will be posted out on the 11th July, Luke is on holiday and no one will be in the warehouse to send out winnings.
Check out our last life-changing bundle winner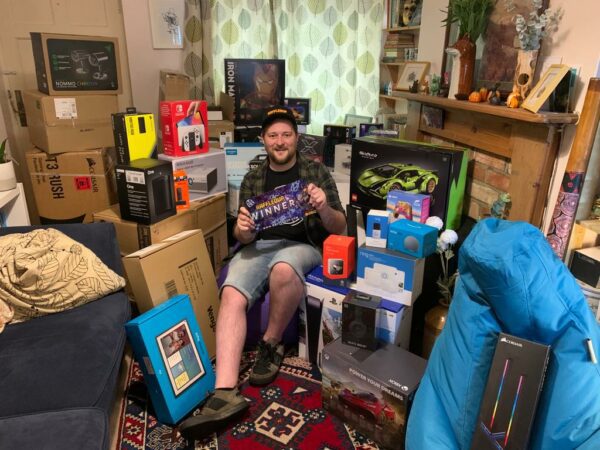 Matthew Baker
"Hi mate,
Please find attached a couple of photos of me with the winnings semi-organised around me. I'm still in shock, but slowly working through everything and trying to figure out where to put it all. The first thing that got set up was the PC which is amazing! Thank you so much for doing what you do, you have changed my life.
Best,
Matt"
---
MAINPRIZE
 PC Specs:
Case: Aerocool Cylon White RGB
Processor: Ryzen 5 5600x
Cooler: Deepcool Gammaxx L240 V2
Motherboard: Gigabyte B550 Gaming X V2
Memory (RAM): Corsair Vengeance Pro 16gb 3200Mhz (2×8)
Graphics Card: Palit RTX 3060 12GB Dual Ampere
Storage: Sabrent Rocket 1TB M.2 NVMe
Power Supply: Corsair RM750 80 Plus Gold
Operating System: Windows 10 Pro
Playstation 5 
Xbox Series X 
Nintendo Switch Oled 
Meta Quest 2 
55″ Samsung OLED TV
Ninja Kettle
JBL Sound Bar
Eufy Doorbell
Eufy Security cam 2C
Shark Cordless Stick Vacuum Cleaner
3x Smart Plugs
Govee DreamView T1
Lay-Z-Spa Miami
14 FT Ourdoor Projector Screen
Outdoor projector
Campfire 4in1 Gas BBQ
Fire Stick 4K
Corsair HS70 Headset
27″ AOC 27G2U monitor
Razer PowerUp V2
GTPLAYER Gaming Desk
GTPLAYER Gaming Chair
Ninja Foodi 9-in-1
Deadpool cable guy
Govee 5m RGB LED light strip
Mega Chocolate lovers hamper
Walkers Snack Box
Marvo SG-280 Speakers
Anker power bank
---
INSTANT WINS
| Prize | Ticket Number |
| --- | --- |
| Sneak 12 mixed flavour pack | 98 |
| Sneak 12 mixed flavour pack | 140 |
| Xbox Series X | 190 |
| £25 RU Credit | 267 |
| 55" TV UE55TU7020(CASH ALT AVAILABLE) | 330 |
| Pokemon Poke Tin | 396 |
| 27" AOC 27G2U Monitor | 567 |
| £50 cash | 633 |
| £25 RU Credit | 1005 |
| Pokemon Poke Tin | 1292 |
| £25 RU Credit | 1315 |
| £25 RU Credit | 1408 |
| JBL Sound Bar | 1416 |
| Lego Venom Head | 1668 |
| Anker power bank | 1683 |
| £25 RU Credit | 1718 |
| £25 Amazon Voucher | 1947 |
| Eufy Doorbell | 2063 |
| £100 cash | 2159 |
| Pokemon Poke Tin | 2424 |
| £25 RU Credit | 2426 |
| £500 cash | 2589 |
| Eufy Security cam 2C | 2675 |
| Razer PowerUp V2 | 3011 |
| Sneak 12 mixed flavour pack | 3147 |
| Nintendo Switch OLED | 3286 |
| Sneak 12 mixed flavour pack | 3437 |
| Echo Dot 4th Gen | 3457 |
| £25 RU Credit | 3721 |
| £25 RU Credit | 3752 |
| Pokemon Poke Tin | 3775 |
| £25 RU Credit | 4034 |
| Pokemon Poke ball Tin | 4075 |
| Pokemon Poke Ball Tin | 4198 |
| £500 cash | 4921 |
| £50 cash | 4390 |
| £50 cash | 4589 |
| £50 cash | 4885 |
| £25 RU Credit | 5175 |
| Playstation 5 | 5739 |
| £25 RU Credit | 5770 |
| £25 RU Credit | 5879 |
| £25 RU Credit | 5884 |
| £25 Amazon Voucher | 6025 |
| Govee DreamView T1 | 6295 |
| £25 RU Credit | 6402 |
| Ninja kettle | 6425 |
| £25 Amazon Voucher | 6556 |
| £25 RU Credit | 7253 |
| Lego The Child | 7460 |
| Pokemon Pokeball Tin | 7514 |
| Lego Batman Head | 7619 |
| £25 RU Credit | 7812 |
| £100 cash | 7842 |
| £25 RU Credit | 8037 |
| £50 cash | 8442 |
| £25 Amazon Voucher | 8647 |
| £25 RU Credit | 9121 |
| £25 Amazon Voucher | 9207 |
| £25 RU Credit | 9240 |
| £50 cash | 9290 |
| Nothing Earbuds 1 | 9396 |
| Lego Darth Vader Head | 9527 |
| £25 RU Credit | 9587 |
| £25 RU Credit | 9647 |
| Anker power bank | 9665 |
| £25 RU Credit | 9951 |
| £25 RU Credit | 10054 |
| £25 Amazon Voucher | 10231 |
| Anker power bank | 10542 |
| Pokemon Poke Ball Tin | 10710 |
| £100 cash | 11237 |
| £25 RU Credit | 11320 |
| £25 Amazon Voucher | 11376 |
| £50 cash | 11416 |
| Pre Order of Harry Potter Legacy(CASH ALT AVAILABLE) | 11506 |
| £25 RU Credit | 11683 |
| £50 cash | 11907 |
| £50 cash | 12172 |
| £50 cash | 12260 |
| Meta Quest 2 | 12350 |
| £25 RU Credit | 12375 |
| £25 Amazon Voucher | 12717 |
| £25 Amazon Voucher | 13144 |
| £25 RU Credit | 13188 |
| £25 RU Credit | 13270 |
| £100 cash | 13742 |
| Anker power bank | 13780 |
| £50 cash | 13881 |
| Pokemon Pokeball Tin | 13906 |
| £50 cash | 13964 |
| 32" AOC CQ32G2SE Monitor | 14097 |
| Pre-order Of Call of Duty MWII(CASH ALT AVAILABLE) | 14286 |
| Slush Puppy machine | 14391 |
| £50 cash | 14426 |
| £250 Cash | 14921 |
| Campfire 4in1 Gas BBQ(CASH ALT AVAILABLE) | 14964 |
| £50 cash | 15495 |
| £25 RU Credit | 15668 |
| £50 cash | 15827 |
| Ninja Foodi 9-in-1 | 15860 |
| £25 Amazon Voucher | 16054 |
| £50 cash | 16129 |
| Pokemon Pokeball  Tin | 16205 |
| Pokemon Pokeball Tin | 16235 |
| Razer Nommo Speakers | 16579 |
| £25 Amazon Voucher | 16779 |
| £50 cash | 16807 |
| £25 RU Credit | 17305 |
| Lego Infinity Gauntlet | 17375 |