WIN THIS AOC 165Hz 34″ CURVED GAMING MONITOR!
 ENTRIES ONLY £0.49
MAX ENTRIES ONLY 1685
MAX 350 PER PERSON
UK & NI ONLY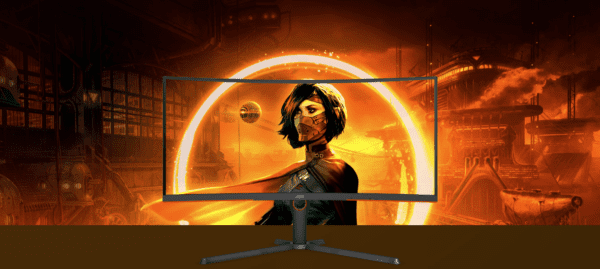 1000R CURVED
A 1000R radius for gaming monitors is the highest option you can get and comes with several benefits: less eye strain, reduced glare, larger perceived images and higher immersion. Dive deeper into the virtual worlds unfolding around you and enjoy your favourite game with the perfect overview.
MINIMAL BEZEL DISTRACTION FOR THE ULTIMATE BATTLE STATION
Expand your view with multiple monitor set-up. The narrow border and frameless design offer the minimal bezel distraction for the ultimate battle station.
1MS RESPONSE TIME
A pixel response time of 1ms means speed without the smear for an enhanced experience. Fast-moving action and dramatic transitions will be rendered smoothly without the effects of ghosting.
HEIGHT ADJUSTABLE STAND
Raise or lower the screen to suit each individual's height and seating preferences. The easy-to-adjust stand ensures hours of comfort.
FREESYNC PREMIUM
Enjoy the best quality visuals even in fast paced games. The AMD FreeSync Premium Technology ensures that the GPU's and monitor's refresh rates are synchronised, which provides a fluid, tear free gaming experience at highest performance. The AMD FreeSync Premium features a refresh rate of minimum 120Hz, decreasing blur and sharpening the picture for a more life-like experience. The LFC feature eliminates the risk of stutter in case the frame rate drops below the refresh rate.
SPEAKERS
Built-in speakers make it easy to catch up with family, friends and colleagues. For movies, music, games and more, you'll enjoy quality audio without the hassle of connecting external speakers.
LOW INPUT LAG
Unleash your reflexes by switching to the AOC Low Input Lag mode. Forget graphical frills: this mode rewires the monitor in favour of raw response time, giving the ultimate edge in hair trigger stand offs.
6 GAME MODES
Tailor your display to the game with a click of a button. Switch settings between in-built presets for FPS, racing, or RTS games, or customise your own ideal conditions and save them. The AOC Settings KeyPad makes switching profiles or adjusting features quick and easy.
This Lucky Legend won one of our Gaming Monitor competitions, will you be next with the AOC 165Hz 34″ CURVED GAMING MONITOR?