HERE IS A CHANCE TO WIN THIS INSANE 3090TI PC WITH 60 AMAZING INSTANT WINS FOR JUST £1.99!

GET ANY NUMBER BELOW, YOU'LL WIN THAT PRIZE INSTANTLY!

Please DO NOT announce any instant wins you get on Social Media, we will announce instant winners on draw day!

If you are one of the lucky legends that bags one of the instant wins, message us on Facebook for the fastest delivery of your prize, we have them all in stock and they will be posted every week day before 2pm on 24 hour delivery!
Check out our last life changing bundle winner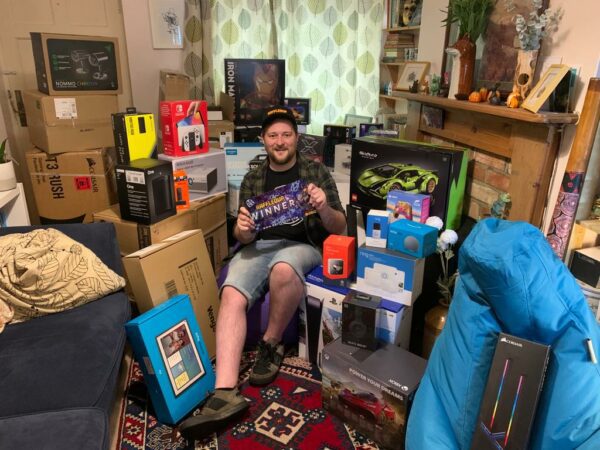 Matthew Baker
"Hi mate,
Please find attached a couple of photos of me with the winnings semi organised around me. I'm still in shock, but slowly working through everything and trying to figure out where to put it all. First thing that got set up was the PC which is amazing! Thank you so much for doing what you do, you have changed my life.
Best,
Matt"
---
MAINPRIZE
---
PC Specs:
Case: Corsair 570x (custom Wooden Panels
Processor: Ryzen 9 5900x
Cooler: Corsair Capellix H150i Elite LCD 360mm
Motherboard: MSI MPG X570S Edge Max Wifi
Memory (RAM): Corsair Vengeance RT DDR4 64Gb 3600Mhz (4×16)
Graphics Card: ASUS TUF RTX 3090Ti Gaming OC
Storage: Sabrent Rocket 1TB Gen4 M.2 NVMe
Power Supply: Corsair RM1000x 80 Plus Gold
Fans: Corsair iCue QL120 x6
Cables: Reaper Cable Premium Extensions
Operating System: Windows 10 Pro
---
INSTANT WINS
| Prize | Ticket Number | Lucky Legend |
| --- | --- | --- |
| Lego Yoda | 286 | Anthony Brindley |
| £1000 cash | 561 | Lee Mitchell |
| SteelSeries Aerox 5 – Black | 713 | Wayne Best |
| £10 RU credit | 882 | Jack Rochford |
| Ninja 9-in1 Foodi | 910 | |
| £10 RU credit | 1177 | Wayne Best |
| Meta Quest 2 | 1210 | Matthew Roe |
| £10 RU credit | 1269 | Joe Day |
| £10 RU credit | 1559 | Chris Pring |
| Govee Light Bars | 1625 | Wayne Best |
| Logitech StreamCam | 1716 | Scott Mcintosh |
| £50 Cash | 1748 | Scott Mcintosh |
| £10 RU credit | 2134 | Zac Conti |
| £10 RU credit | 2206 | Robin Hutchinson |
| Razer Nommo Chroma | 2255 | Tim Gladwin |
| £50 Cash | 2326 | Saffron Birtwistle |
| I-Box Rest Smart table | 2525 | Shannon Randle |
| Game over desk light | 2526 | Jack Rochford |
| £10 RU credit | 2930 | Ben Edmondson |
| Soundcore Flare Mini Bluetooth Speaker | 2953 | Andy Davies |
| Xbox Series X | 3176 | Tom Naylor |
| £10 RU credit | 3217 | Craig Rowlandson |
| £50 Cash | 3258 | Alan Bywater |
| Fire Stick 4K | 4010 | Wayne Best |
| £10 RU credit | 4037 | Robin Hutchinson |
| £100 cash | 4660 | Ben Dobkin |
| Govee 5m RGBIC | 4972 | Shane Ramsey |
| Echo Dot gen4 with clock and Alexa | 5058 | MARK NICKLEN |
| £100 cash | 5161 | Wayne Best |
| £10 RU credit | 5165 | Robin Hutchinson |
| Nintendo Switch OLED | 5320 | Taylor Allan |
| Playstation 5 Disc | 5387 | Andrew Choules |
| £50 Cash | 5424 | Brandon Kirkness |
| £10 RU credit | 5471 | Robin Hutchinson |
| Tile mate x1 | 5590 | |
| Govee table lamp | 5875 | Trent Shorter |
| £10 RU credit | 5901 | Wayne Best |
| SteelSeries Apex 7 | 5919 | Daniel Warren |
| Amazon Fire HD 10 | 6198 | Sian Harris |
| £10 RU credit | 6230 | Stephen Jones |
| £50 Cash | 6601 | |
| Anker Soundcore Motion Boom Portable Bluetooth Speaker | 6691 | |
| Raver power up v2 | 6806 | Tom Johnson |
| £100 cash | 7029 | Richard llewellyn |
| Echo Dot gen4 | 7340 | Daniel Horne |
| £10 RU credit | 7529 | Wayne Best |
| Nintendo Switch Lite | 7573 | Chris Roe |
| £10 RU credit | 7997 | Jack Rochford |
| £10 RU credit | 8133 | Brandon Kirkness |
| £50 Cash | 8137 | Gina Lessimore |
| Astro A10 PS5 | 8227 | |
| £10 RU credit | 8303 | Liam Duff |
| £100 cash | 8493 | Conall Wharton |
| £10 RU credit | 8654 | Aaron Owens |
| £10 RU credit | 8747 | Charlie-Ann Bates |
| £10 RU credit | 8981 | Thomas Routley |
| £100 cash | 9031 | Brynley Maher |
| Razer hammerheads True wireless Pro | 9190 | Colin Hunter |
| £10 RU credit | 9469 | Del Flesher |
| £10 RU credit | 9828 | Jonny Hawkins |